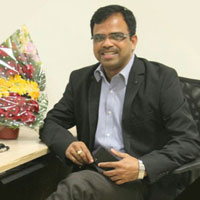 Mr Satya Narayan Mishra
Chief Operating Officer
Mr. Satya Narayan Mishra is a professional having a rich experience of more than 18 years in banking and microfinance sector. With an experience of working in 6 different states of India, he has handled the position of Assistant Vice President in YES Bank Ltd & Associate Vice President in DCB Bank. Prior to that, he has worked in different capacities in BFIL (earlier known as SKS Microfinance) & India Shelter Finance Corporation (ISFC). He then worked as the Head of Operations in Vedika Credit Capital Ltd. At present, he's working as the Chief Operatiing Officer in Sampark Fin Services Pvt Ltd.
Mr. Sameera Kumar Maharana
Business Head
Mr. Sameera Kumar Maharana is a professional having more than 8 years of experience in Business Development, Policy management, Training & Development under Banking & Microfinance Segment. He has a Master's Degree in Finance and Control (MFC) from Utkal University. He was earlier associated with Yes Bank Ltd for Business development function at different places of Odisha and Axis Bank Ltd at Jharkhand & Bihar. He has an extremely good expertise in business development and people management. Currently he is working as Business Head in Sampark Fin Services.
Mr. Jyoti Ranjan Mohapatra
Chief Finance Officer
Mr. Mohapatra has versatile experience in finance and audit, After completion of M.Com, ICWAI, he started his career as Finance Manager, Head –Finance, Head Internal Audit, in national level leading financial companies/institutions. He is also a very good trainer on financial management, He is having a vast experience on management of cash flow, ALM and business plan. He solely believes that strength lays on unity. Financially backward people can get social justice as well as economic security through unity and that can change their lives. He has also a strong determination to work harder and stay united towards reaching greater heights in alleviating poverty and ensuring financial security for the marginalized..
Debendra Ku Samal
Head HR
Mr. Debendra Kumar Samal is a professional having more than 8 years of Experience in HR domain. He has a Masters Degree in Business Administration (MBA), PM & IR (Master in Personnel Management & Industrial Relation) from Utkal University. He was associated with Access-Assist, Nexgen Renaissance Pvt. Ltd., C.V Raman (Auto) Engineering College, Regional Institute of Education (NCERT) Govt. of India, Karvy Data Management System and OMC (Odisha Mining Corporation Ltd) Odisha in different role in HR Function. During his tenure, Mr. Samal has implemented several improvements to the Human Resource Functions in the public and private sectors by implementing an electronic applicant tracking; designing a comprehensive HRMS, automating the payroll process for time entry etc. He is maintaining a dedicated focus on organizational effectiveness and customer services.
Mr Ashish Kumar Nayak
Senior Manager - Risk Management
Mr. Nayak has completed BTech in Electrical and Electronics Engineering from Silicon Institute of Technology, Bhubaneswar. He has served M/s Vijai Electricals Ltd. as an Engineer and has worked as an Assistant Manager for Cabcon India Pvt. Ltd. After five years of experience in the field of engineering, Mr. Nayak, completed his MBA in Rural Management from the coveted Xavier School of Rural Management (XIMB-RM). During his Post Graduation at XIMB, he did his internship in Jharkhand State Livelihood Promotion Society in its Evaluation and Monitoring vertical for two months. Currently he has joined Sampark Fin Services as a Management Trainee.
B. Malesu
Senior Manager Financee
Mr. Malesu has a more than 27 years of experience in finance management, maintaining of accounts, data entry and office administration. After completing his Bachelor degree in commerce from Berhampur University, he started working as an intern in a CA Firm in Berhampur. Then after he completed his Master in Business Administration in Finance from Andhra University. He then joined Friends Association for Rural Reconstruction (FARR) a state level NGO in Orissa, as a Finance Officer cum Administrator. He has worked with PLD New Delhi, AHEAD, LASK as a Financial Consultant and with MSF as a Finance Manager. With expertise in FCRA & Govt. accounting, micro finance, liaison with government departments, office management and administration, he's working with Sampark Fin Services Pvt. Ltd. As a Senior Manager in Finance department.
Saroj Kumar Mohapatra
Manager Audit
Mr. Saroj Kumar Mohapatra holds a Diploma in Finance & Accounting from NIIT and aMasters degree in Finance& control fromUtkal university.He is also certified in sustainability & social norms fromXavier University, Bhubaneswar. After completion of his Masters degree, he worked as an executive in HDFC Bank in SLI CSR Dept where he worked on budgeting, cost control & social empowerment of rural women. Prior to joining in Sampark Fin Services, Mr. Saroj has an experience of 4 years in the leading banks of India like Axis Bank, State Bank of India, Canara Bank & Tax audit. Currently, he is looking after the internal audit department of Sampark.