Background Details :
Client Name:P Sabitri
Age: 50yrs
Number of Family Members:6
Education: 10th Pass
Business: Basket Weaving
Name of JLG: Krupa JLG,
Total Members in the Group: 5
Year of Formation: 2017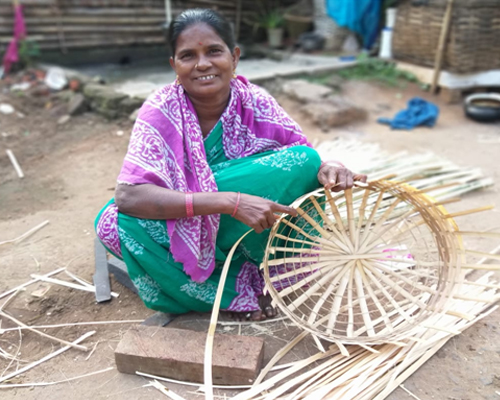 P.Sabitri is a residence of TaatiSahi, Bhubaneswar. Her family has a total 7 members and like most of the rural families they also have to manage their day-to-day expenses with limited resources. Her husband worked in a mobile shop from which he earned ₹7,500 a month. But that money was not enough to manage a seven membered family.
In the meantime, she attended a village meeting where she came to know about Sampark Fin Services Pvt. Ltd. and how it help women to start their own microenterprises. After proper counselling by the Relationship Officer of SFS, she became part of Krupa JLG with four other members of her locality and applied for a loan. Our Relationship Officer also imparted her with knowledge on Financial Literacy, which made her understand the need of savings. Household budgeting and importance of income generating activities.
At the age of 48, P Sabitri started a business of Basket Weaving by taking a loan of INR 20,000 from Sampark Fin Services. Basketry is made from variety of fibrous and pliable materials including pine straw, willow, oak, stems, thread and fine wooden splints.Sabitri purchased wooden splints from market and with the help of her daughter and daughter-in-law; she started weaving baskets, mats and other materials. Instantly, her business became a hit and worked well in her locality. She started earning a profit of ₹300 per day.
In the year 2019, again she took a loan of ₹35,000 per day from Sampark and expanded her business. With this business, she could afford the education of her grandson who has recently started going to school. And the financial health of the family became stable. They no longer have to depend on the local moneylenders, as their savings is now sufficient to meet their emergency needs.
Savitri is very grateful to Sampark Fin Services Pvt. Ltd., who has not only increased her family income but also it has provided her the avenue for development in the last few years. Sampark is also proud to have helped her, as she is an inspiration to many of her age. She has clearly shown that age cannot be a barrier at any point of time. It's only your will and determination that makes you win important matches of life.