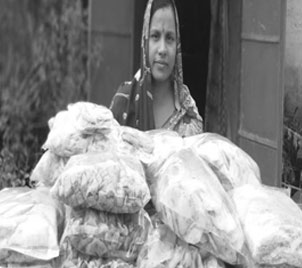 "Story of a group of
women who formed a
JLG and unitedly started
their business of making
& selling hot chips."
It takes courage for women to come out of the shell created by their families & society to earn their Bread & Butter. Along with doing the core household works, nurturing their kids, they do have the ability to be self-dependent and be an earning member of the family to decrease the burden of their spouses.
Durga JLG, a group of women in Bhubaneswar decided to do something of their own and start a small business. Their only concern was arrangement of funds. When Senior Relationship Officer of SAMPARK, Anjana Hota reached their village for meeting, they were quite impressed by the idea of forming a group & take a loan amount being liable for each other instead of producing any collateral. In October 2016, they took a loan amount of INR 25000 each for a tenure of 18 months and started a business of hot chips with a lot of varieties like Sev, Murukku, Namkeen, Mixture, Chips, Papdi, etc. They made these products at themselves & started wholesaling it for market.
Initially, they faced challenges in linking their products to the market but with time they did wonders in their small business. They started earning reasonable amount of profit. This led them to even widen up the variety in their products. Demand of their hot chips increased so as their standard of living. They showed us when women come together, they can make the most impossible fantasy look so easy.
They still are the clients of Sampark Fin Sevices, as they took second cycle loan from SFS in May 2018. The organisation is proud to have clients who donot want to stay inside the four walls of the house & instead are earning for themselves & their families.